Level: 16
Difficulty: Epic Quest
Location:
Start:
Bestowal Dialogue:
'Black birds flittered and fluttered, skipping among the branches. They came to rest where the restless walk. Beware the old barrows, they stir when they should be a-sleeping!
'Go north up the path and follow the Old Barrows Road, then south within the barrows wall along the forest eaves. Hey dol! Merry dol! And there you'll find them! Watch for the lady dreary.
'Now hop along, my hearty! Tom's a-going leaping!'
Background:
Tom Bombadil was pleased with the lilies you found for Goldberry and has told you where the crebain you were searching for can be found. He also told you that a woman was there waiting.
Objective:
1. The Barrow-downs are reached by going north and east along the Old Barrows Road. The crebain stopped to roost in the trees within the Barrow-downs, south along the ridge, above the eaves of the forest.
Tom Bombadil found the crebain within the Barrow-downs, but also mentioned the presence of a woman. You should stay on your guard.
2. The Old Barrows Road is north of Andraste's grove. The house of Tom Bombadil is west and south along the Old Barrows Road.
Andraste revealed that the Lord of the Nazgûl had gone to someplace called Othrongroth, but you could learn nothing more before her death. Tom Bombadil is the Master of the Wood and of the Barrow-downs. He might know where Othrongroth lies.
Walkthrough:

Advice:

Related Quests:
Epic Quests
Reward:
2s15c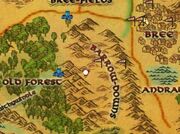 Community content is available under
CC-BY-SA
unless otherwise noted.